Barber Vs Cosmetologist: What's The Difference?
You may be wondering what the difference is between a barber and a cosmetologist.
Although they have a lot in common when it comes to their daily tasks, they are still differences between them. 
Some key distinctions between them are in the range of services they provide and the difference in terms of what is required for getting their individual licenses.
In this article, we will be settling the debate on the difference between Barber Vs Cosmetologist.
But first, it is imperative that you fully understand their definitions and job descriptions.
Let's get started.
What Is A Barber?
A barber is a professional whose occupation is to cut, style, shape, groom, and dress men's hair and beards. Barbers are licensed by the state and learn cutting, coloring, and straightening treatments through apprenticeships or certificate or associate-level programs.
As well as cutting, washing and styling the hair, barbers also do the shaving and trimming of the mustache and beard.
Barbers are focused more on male clientele. Although women could use a barber's services, they generally prefer to go to a hairstylist or cosmetologist instead, where they get a different, more comprehensive type of haircare.
Job Duties Of Barbers
Barbers perform a number of techniques on the face, scalp, beard, and mustache. They trim, cut, shape, and taper hair with scissors, razors, clippers, and combs. They also often provide facial hair maintenance, custom shaves, and a number of grooming services which include:
Shampooing
Styling
Coloring
Scalp, neck, and facial massages
Although they are not as common as their typical job duties, the following services are also provided by barbers;
Applying hair tonics
Applying lotions, powders, or other cosmetic preparations to the skin
Coloring, bleaching, or straightening the hair
Cutting, fitting, measuring, and forming head caps for wigs or hairpieces
Performing client consultations
Applying lotions and aftershave after shaving
Applying hot towels to the face to open pores
Using blow dryers to dry hair
Cleaning up hair on the floor and around the workstation
Stocking shelves with products and order products
Checking out clients
Cleaning and sterilizing tools and equipment, such as scissors, combs, and clippers
Updating/maintaining client records
Ordering supplies
What Is A Cosmetologist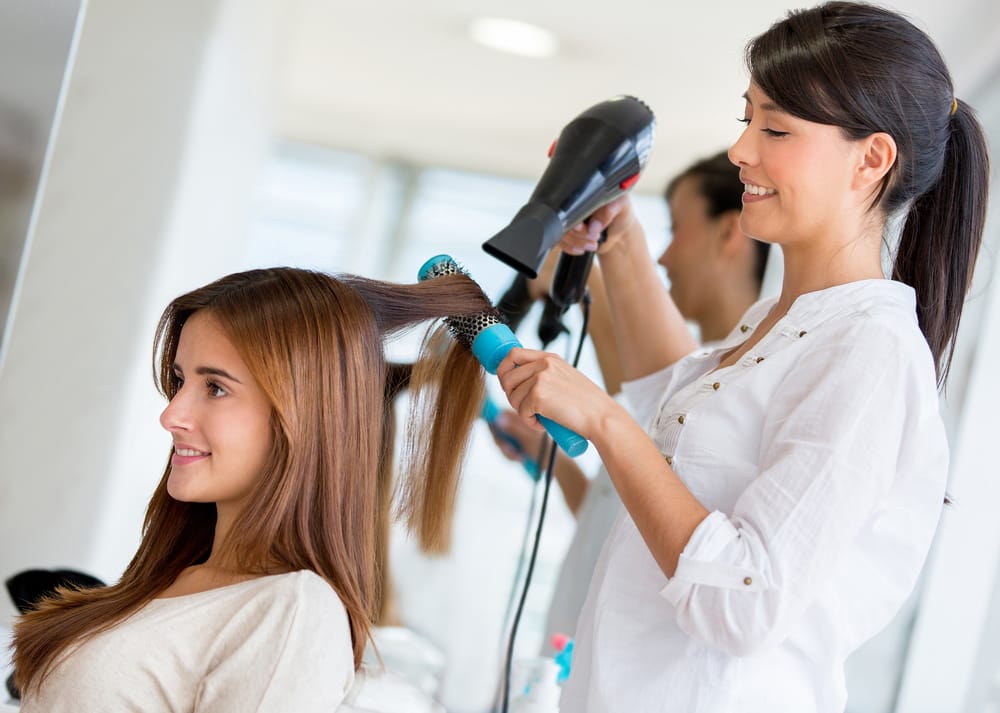 A cosmetologist is a person with expertise in applying cosmetic procedures, therapies, and treatments to beautify one's outer appearance. They implement these treatments on people's hair, skin, and nails.
The services they provide include manicures and pedicures, body waxing, facials, makeup, scalp treatments, and hair styling. Compared to a barber, a cosmetologist has a broader range of services and requires a wider skill base. 
More Like This:
Job Duties Of A Cosmetologist
Cosmetogiosts cover a wide range of duties. The following are some of the most common disciplines in cosmetology and their respective tasks.
Hair Styling
Washing, shampooing, drying, and cutting hair
Shaping, cutting, texturing, styling, straightening, or curling hair
Coloring, tinting, lightening hair
Chemically changing hair texture, perms, relaxing hair
Braiding hair
Installing hair extensions or weaves
Barbering
Cutting, trimming, shampooing, and styling hair
Shaving facial hair
Fitting hairpieces
Coloring, or perming hair
Performing facial treatments
Esthetics
Facials
Exfoliation
Skin conditioning and wrinkle reduction
Waxing, tweezing, eyebrow threading, and hair removal
Anti-aging treatments
Nail Technician
Manicures
Pedicures
Nail artistry, nail jewelry
Gel nails, silk nails, and acrylic nails
Makeup Artist
A Makeup artist, sometimes called MUA is an expert at using make-up compounds to tint, conceal, or otherwise alter a person's look for the purpose of beautification. Makeup artists may work in professional photography studios, cinemas, special effects, fashion shows, weddings, or special events.
These specialized cosmetologists know how different cosmetics interact with skin, and how to achieve certain looks and effects using makeup.
Electrologist
An electrologist makes use of special equipment to facilitate permanent hair removal.
Electricity is applied to damaged hair follicles, so hair doesn't grow back. This field of cosmetology usually requires additional certification, due to the nature of the procedure.
Barber Vs Cosmetologist/Differences
Now to the bane of the matter: What is the difference between a barber and a cosmetologist?
Both the barber and the cosmetologist cut, style, trim and groom hair. However, while the barber focuses more on men's hair and beards, the cosmetologist deals with both male and female clients.
Also while barbers are specialized only in the field of hair, cosmetologists focus on hair, skin, and nails to enhance beauty. Cosmetologists perform manicures, pedicures, waxing treatments, facials, and makeup applications.
Getting A Barbers License
Certificate or associate degree programs for barbers typically lasts from 9-24 months and they are offered at community colleges, technical schools and beauty schools. Barbers are trained in hair styling, trimming, shaving, and treatment techniques.
To become a barber, you require a state license. Training may also involve aspects of marketing and salon management.
Getting A Cosmetologist License
The path to a cosmetologist license is not that different from a barber's license. Both types of students may learn about hair styling and treatment techniques and may even attend the same program.
While there may be similarities in the program, a cosmetologist's path differs in some ways. 
Cosmetologists take additional courses on beauty treatments that covers not only the hair but the skin, and nails as well.
Both the barber and cosmetologist training covers customer service, marketing, and salon management classes.
Similar to barbers, cosmetologists require a state license to practice. This license or certification may be awarded through the course and will require you to pass a written and practical test. The minimum requirement to start most cosmetology courses is a high school diploma.
Job Outlook For Barbers And Cosmetologists
Both barbers and cosmetologists require a state license to practice and the minimum educational qualification to obtain one is a high school diploma or GED and completion of an accredited barber or cosmetology school.
According to the Bureau of Labour Statistics, 705 of all barbers and nearly half of all cosmetologists were self-employed as of 2019.
The Bureau of Labor Statistics also predicts that there would be a decline of 2% in job prospects for all hairdressers, hairstylists, and cosmetologists and an increase of 7% in job prospects for cosmetologists for barbers between 2019-2029.
While the annual average wage for hairdressers, hairstylists, and cosmetologists in 2020 was $27,380, and barbers earned $32,470.
Frequently Asked Questions
What Is The Difference Between A Barber And Beautician?
The difference is that barbering is strictly focused on hair, whereas cosmetology has a much broader inclusion, such as nails, skin, hair, and more.
Is There A Difference Between Barber And Hairdresser?
The major difference is the tools they use to carry out their assignments or duties. While barbers use clippers and razors, men's hairdressers make use of scissors, as they style longer hair. 
Do Barbers Cut Women's Hair?
Yes, they do although men are the frequent guests of hair salons. However, most female consumers prefer to go to a hairstylist since they cater to women's needs, such as coloring, perms, straightening, nails, and other salon services.
Should I See A Barber Or Stylist?
Stylists are more experienced in cutting and styling longer hair. Most barbers do not do a lot of color services, so you are likely find better results from a stylist. 
Can Barbers Refuse To Cut Women's Hair?
It is unlawful for a barber to refuse to cut a woman's hair simply because she is a woman, or charges a woman more than a man for exactly the same service.
Should A Guy Go To A Salon Or Barber?
A salon stylist receives far more training than a barber. A stylist can help determine the best style for your facial structure, complexion, and age. Salons are the perfect option for men that want to be fashionable, and stylish, and maintain a longer style.
What Is A Female Hair Cutter Called?
The terms barber, hairdresser, and hair stylist are often used interchangeably, but they do not have the same meaning. A hairdresser is the same as a hair stylist, but the term "hairdresser" is a bit out of fashion and was used to refer to females.
Can I Be A Barber Without Qualifications?
You require certain certifications (licenses) to become a barber. To hold a barbering license, you need to be at least 16 years of age. You will also be required to complete barber training programs and pass the licensure exam.
How Long Does It Take To Become A Qualified Barber?
An apprenticeship in barbering typically takes about 2 to 3 years to complete, and it is typically for people aged 16-18 years old.
Can Barbers Do Undercuts?
A good barber will be able to recommend the best version of an undercut for your face shape, hair texture, hairline, and needs. 
Conclusion
Now you must have known the difference between a barber and a cosmetologist. While barbers only work with hair and focus mainly on male clientele, cosmetologists focus on male and female clientele and provide additional beauty treatments.
Also, each profession has different salaries and training programs.
We hope this article has been helpful. Kindly share and leave a comment in the section below.