8 Best Medium-Sized Engineering Colleges for Students
If you're an engineering student and not a fan of very big schools and would prefer schools that offer intimate teacher to students contact and a tight-knit community.
Here are some Medium-Sized Engineering Colleges you should consider; you gain standard education and a small community of staff and students.
Medium-Sized Engineering Colleges To Choose From
Read Also 7 Best Art Schools in Italy
1.Binghamton University.
Now rebranded as The Thomas J. Watson College of Engineering and Applied Science, it is a university where your certificate would weigh a ton if received.
It is a technical public university that provides a top-ranked engineering and computer science education in upstate New York.
The university is focused on engineering and other courses too, but engineering is mainly to offer students from all over the world the broad-based skills and the entrepreneurial spirit to succeed in fields ranging from mechanical engineering to hospital operations to the law.
With a population of barely 17,00p students, Binghamton University has laid a firm foundation through outstanding education, exceptional research, teamwork and an intimate community with students and exceptional faculty members who are both innovative researchers and supportive professors.
Read Also 5 Best Art Schools In Australia
2. California Institute of Technology
California Institute of Technology or Caltech as it's known is famous for close collaborations with faculty, and small class sizes.
California Institute of Technology is currently ranked as one of the best, in the top colleges in California, this is due to the close teacher and student relationship. With a population of barely two thousand students (2,000), Caltech is good for the students who do not want an overwhelming number of students in a class.
Caltech also curates an academic environment that emphasizes interdisciplinary teamwork, critical thinking, mutual support, and a deep understanding of core concepts and principles across fields to nurture graduates who are prepared to become world leaders in science, engineering, academia, industry, and public service.
The students are also given career development support to assist them in everything from securing an internship, to pursuing advanced degree programs and planning a career.
The graduates are well trained in their ability to identify, analyze, and solve challenging problems within and across science and engineering disciplines, as well as expected to be prepared to apply and communicate their expertise broadly throughout their careers.
Read Also 13 Best Free Japanese Courses Online
3. James McKelvey School of Engineering -Washington University
Washington University fits the bill of a medium-sized school with fifteen thousand (15,155) students only, a stark contrast to the University of Michigan which has over forty thousand students (44,720).
The James McKelvey School of Engineering, Washington University in St. Louis is a leader in different relevant areas of engineering such as aerosols engineering research and education.
The university is focused on understanding the impacts of aerosols on the environment, climate and human health science which brings together world-renowned researchers in medicine, computing and engineering.
The university offers admission in engineering into undergraduate programs, professional programs, Master's programs and doctorate degrees (PhD) both in full and part-time learning. And its engineering programs sometimes collaborate across multiple departments to create AI-driven cyber-physical systems that are secure, safe, reliable and resilient.
Washington University offers a variety of courses in engineering so no matter the field you are interested in, Washington University has a wide range for you to select from.
4. The Vanderbilt School of Engineering
The Vanderbilt School of Engineering is a private research university in Nashville, Tennessee that is internationally recognized for the superior quality of its research and education programs in selected fields of engineering.
It continues to rank in a tie with various Ivy League universities in quality of education and student satisfaction.
The school prepares students to become leaders and innovators in solving increasingly challenging and significant problems and to do that, they strive to meet the undergraduate education portion of its mission by offering these degree programs in fields of engineering relevant to the needs of society. 
The Vanderbilt School of Engineering provides a technical education integrated with strong humanities, fine arts, and social sciences subject matter to provide the requisite foundation for lifelong learning that in turn produces intellectual leaders, entrepreneurs, and innovators by recruiting the best students and providing them with a top-notch education.
The school is also a student-focused university that produces principled and ethical alumni.
Their careers leverage their Vanderbilt experience to offer opportunities for professional growth and impact after being schooled on a Vanderbilt-tailored curriculum that delivers only the highest standard of learning alongside accredited programs and certificates.
Read Also 12 Best Engineering Schools In The World With Scholarships
5. Cockrell School of Engineering, University of Texas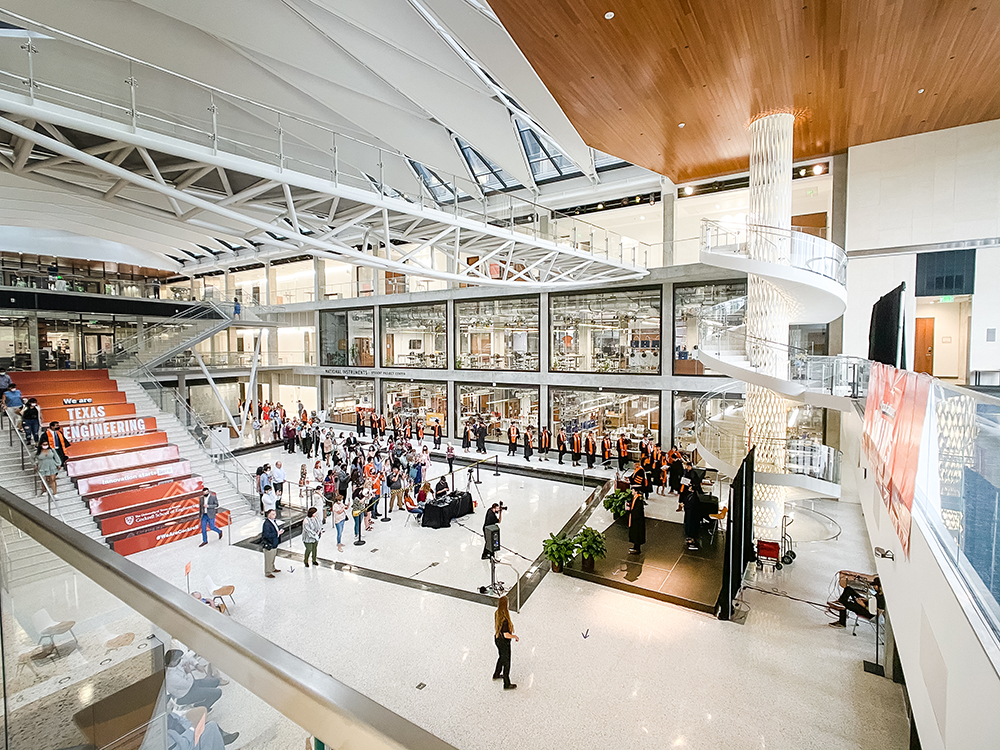 Cockrell School of Engineering, University of Texas is a prime engineering education spot. It is a leading research university and engineering is a highly recommended course the university.
The University of Texas is an affordable university that is located in one of the cities that have been listed as one of the best places to live in addition.
The Cockrell School of Engineering is ranked as the No. 1 program in Texas, the Cockrell School of Engineering at The University of Texas at Austin has been a global leader in technology advancement and engineering education for over a century.
It is a medium-sized university that aims to have a globally respected community without the sprawling number of students.
Texas Engineering has launched some of the nation's most accomplished industry and academic leaders and pioneered world-changing solutions in virtually every industry, from space exploration to energy to health care.
If you intend to pursue engineering as a full-time career after graduating, Cockrell School of Engineering at Texas university is one of the best places to start.
6. Worcester Polytechnic Institute
Worcester Polytechnic Institute is one of the pioneer institutes of engineering in the United States.
With a devotion to lifelong learning and a commitment to making the planet better, Worcester Polytechnic Institute School of Engineering gives students opportunities to solve real-world problems through team-based projects, immersive research experiences, rigorous independent study, and close student/faculty mentorship.
At Worcester Polytechnic Institute or WPI, students are involved in engineering projects and research from the very beginning. The students are equipped with skills in the classroom that they can easily apply outside, in a real work environment. The well-funded research projects showcase the breadth and depth of the engineering advances at WPI.
The students are opportune to work alongside world-renowned faculty members with long years of experience so that WPI graduates become proficient and agile engineers able to adapt to a constantly changing global environment.
Read Also 8 Best Accredited Online Colleges in Maryland
7. Georgia Institute of Technology College of Engineering
The College of Engineering of Georgia Institute of Technology, also known as Georgia Tech, is one of the leading and highly rated medium-sized engineering colleges, a public research university in the USA.
It is an excellent medium-sized university for those who are interested in engineering.
8. Kettering University
Kettering University is among the few medium universities that offer an in-depth course on robotics.
The University's College of Engineering is home to the Departments of Chemical Engineering, Electrical and Computer Engineering, Industrial and Manufacturing Engineering, and Mechanical Engineering and the programs are offered through the college.
They focus on a variety of subject areas including embedded computer systems, signal process, control systems, manufacturing and human processes, safety, bioengineering, automotive design, alternative energy and much more.
Conclusion:
If you'd like a closer teacher-to-student contact in education, the above eight are excellent choices that meet your needs.