Top Service Academies – Eligibility, Requirements, Cost
Attending a military service academy related to the United States Armed Forces is a great way to start your career as a military officer while you are in the business of receiving higher education.
This is why we have compiled a list of top service academies for those interested in joining the force. 
In general, enrolling in service institutions is not easy as they require competitive admission rates and other requirements.
In addition, the application for service academy starts early in high school, so it is best to research your options carefully before continuing with your decisions.
Some important things you need to know about service academies are their specialized military education and training procedures.
Read Also University of Melbourne Offers Alex Chernov Scholarships for Students in Australia 2022
What is a Service Academy
Service academies train young people interested in joining the force to serve as authorized officers in several military branches.
They train students to meet military service and leadership's physical and psychological needs.
If you graduate successfully, you will receive a bachelor's degree as a military officer. Only citizens of the United States are admitted to the service academy unless it is a special invitation.
5 Top Service Academies
Some of the top service academy that you can enroll in include;
1. The United States Air Force Academy (USAFA)
This is a new school as it is a new branch of the military. It was founded on April 1, 1954, in Colorado Springs.
It is ranked third even if it is the smallest of the service academies. It has a modern campus and prepares cadets to serve in the Air Force as Second Lieutenants.
Most of the graduates of this academy become pilots. After graduation, their students received a Bachelor of Science (B.Sc) degree and became an officer in the air force.
Read Also Medical Scholarships for Nigerian Students – Study Abroad
2. The United States Coast Guard Academy (USCGA)
The school was founded and established in 1876 in New London. It is the smallest of the five federal service centers. The USCGA could be placed under Navy control during wartime, making it part of the armed forces.
This academy does not only offer more educational programs but also equips students with the skills needed to become good officers. 
3. The United States Merchant Marine Academy (USMMA)
USMMA was established in 1943, during the second world war, and was designed to train young people to operate merchant ships. It trains students to become Merchant Marine service officers.
In addition, Marine merchant officers may likely be sent to military service during times of war. The academy is ideal for students who want more educational challenges as it is known for its robust learning program.
It requires more time to obtain a bachelor's degree than any other service school. However, they offer many career options compared to other institutions of higher learning.
Read Also 8 Best Medium-Sized Engineering Colleges for Students
4. The United States Naval Academy (USNA)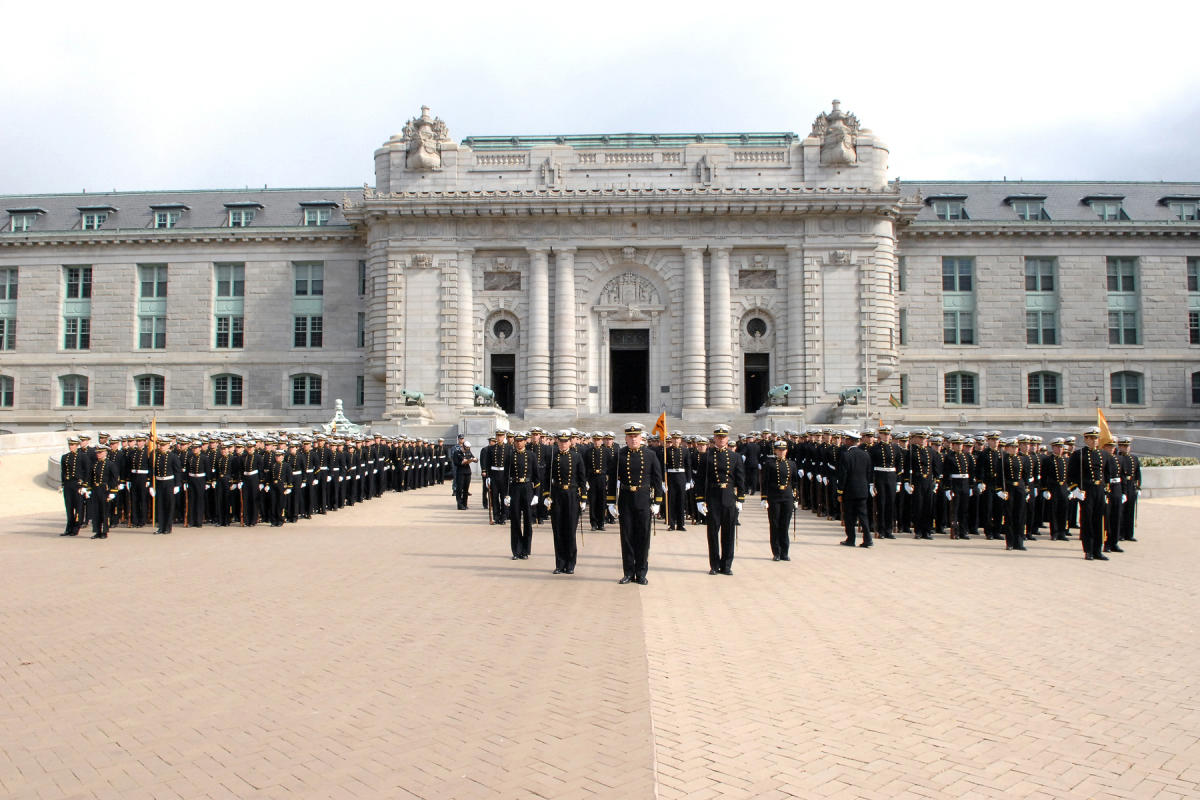 USNA was established on October 10, 1845, in Annapolis, Maryland. The school trains youngsters to serve in the Navy as Marine Corps or as Second Lieutenants.
It has a low entry rate of 8.3%, and they are known for being the most challenging academic.
The academy trains young people to become professional, talented, and empathetic officials in the United States and the Marine Corps. It is important to know that Naval Academy students are partners in the work of the United States Navy.
5. The United States Military Academy (USMA)
USMA is the oldest school, founded on March 16, 1802, in West Point, New York. It is ideal for students interested in serving in the United States Armed Forces. After graduation, students are trained to serve in the United States Army as Second Lieutenants.
The school teaches, trains, and motivates a team of students so that each graduate becomes an authoritative, ethical leader committed to the values ​​of work, honor, and the world.
USMA graduates receive a Bachelor of Science degree and are second only to lieutenants in the United States Army.
Read Also 7 Best Art Schools in Italy
Conclusion
From this article, you can see that it seems difficult to say which service academy is best for you to attend as they all have one feature or the other that makes them unique.
Hopefully, this post will help you decide which of the top service academy you wish to enroll in, as they have different requirements.